We are reviewing pamu slide mini bluetooth 5.0 true wireless earphone that brushed with size and could become the best TWS in the price-to-price ratio. Why you should regret that Padmate has overloaded – this is what you will learn from our PaMu Slide Mini test.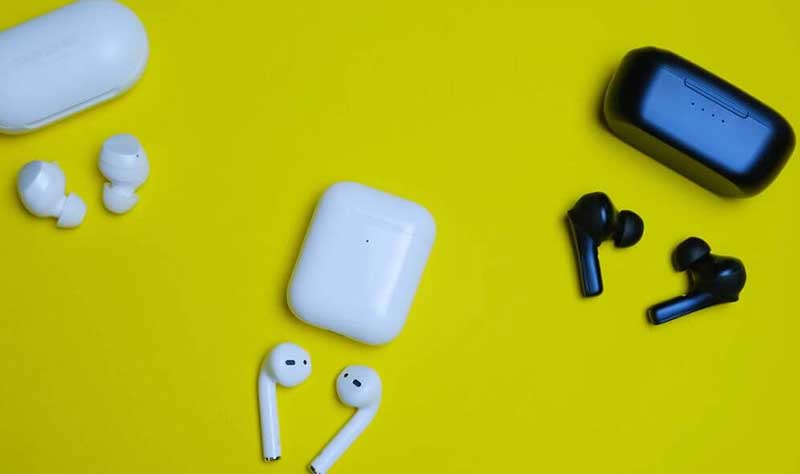 It is getting harder and harder to get gadgets that can mark their presence longer than blink. In the world of wireless headphones on sale, especially the True Wireless type, we still meet with carbon fiber : this is from Airpods, and this is Buds, and these are "clone clones" like Redmi Dots.
Sometimes a brighter star like Sennhaisers Momentum True Wireless , Klipsch T5 True Wireless or Bang & Olufsen Beoplay E8 will flash , which are distinguished by a charging case or headphones design. Without a doubt, they are quite expensive models, the price of which is justified not only by the original appearance, but also by good parameters and sound.
The higher-end monopoly can be broken by headphones that we buy almost 3 times cheaper, welcome to PaMu Slide Mini, the hero of Indiegogo, attacking the imagination with the slogan that they are better than Airpods. What like what, but the courage of Padmate-Tech can not be denied. Especially since the company from the beginning was focused on conquering the US market.
Seemingly, it might seem that PaMu will try to do what Far Eastern companies have always been doing, i.e. steal ideas and develop them as cheaply as possible. If that were the case, Slide would share the fate of hundreds of similar claimants that no one today – except for warehousemen cleaning up collapsing unsold cardboard boxes – would not remember.
However, PaMu, apart from the noisy announcements of the fight against Apple, did something else by announcing the original vision of True Wireless headphones. Of course, it's still an airpods-like design, but with a one-of-a-kind case that seduces with the design and capacity of the battery.
We check if PaMu deserve a chance – and if so, who should be interested in them?
When I opened the package with this model, from the first moments I had the impression that someone took a lot of time to design a neatly decomposing box , which I regret to get rid of. Inside, in a special molding, headphones and a case were placed, as well as accessories in the form of: 6 sets of rubber tips, charging cable and instructions. The case looks so different that many people asked me what I got in this box.
Headphones for an airpod design are quite large and well profiled , thanks to which we can easily put them in the ear. On their outer side you will find a notification LED for connection status (red during connection, white after establishing connection), at the top there are holes to hide the microphones.
An interesting solution is the silicone cap on the top of the handset, which is likely to provide additional attenuation. Noteworthy is the metal mesh , which protects against dirt from getting inside – it is easy to clean and is firmly fixed.
Specification
Perhaps for many users the key feature of this model will be an impressive working time : up to 10 hours of listening to music or conversations on one charging of headphones and up to 30 hours of work time thanks to the charging case. I admit it right away – while on the headphones that I threw into the pouch instead of the charging case and manually disconnected Bluetooth, I reached 9 hours of work without difficulty, I didn't test the case itself because … I just forgot that it needs to be charged.
After a week of use, only 1 of the 4 LEDs indicating the battery level in the case went out.
Bluetooth 5.0
Bluetooth transmission range: <10 m
Frequency response: 20 Hz – 20 kHz
AptX, AAC, SBC support
Sensitivity: 97 dB
Impedance: 16 ohms
Transducer size: 6 mm
Playback / talk time: up to 10.0 hours
Standby time: Up to 30 hours
Charging time: <1 hour fast USB-C charging
Battery capacity: earphone = 85 mAh, charging case: 400 mAh
Moisture / splash resistance: IPX6
Double microphone noise reduction
Touch operation (music playback and call control)
Support for voice assistants
6 pairs of silicone tips
Case dimensions: 72 x 72 x 38.5 mm
Wait, wait … the chipset from Qualcom, designated as QCC3020 , immediately seemed to me a shady familiar. Yeah! This is the heart of Tronsmart Spunky Beat, who just recently rolled out our editorial test . While Spunky were unusable due to interruptions in the transmission of music, in the case of PaMu I have not encountered such a problem.
PaMu, even before the music flowed from them, I appreciated thanks to the construction of the headphones themselves, which are quite large, which makes them easy to manipulate . Not without significance will also be the fact that their tips are not cylindrical, but rather resemble a cuboid, which allows them to be stable and positioned in the ear.
That's not all – the touch panel , on which we give commands, covers a relatively small section of the handset, thanks to which situations in which we accidentally press it are rare. This disadvantage led me, even in the case of the recently reviewed Spunky Beats, which on a light brush when removing them from the box or putting them in the ear could turn off (!). In the case of Slide, we will not face this problem.
A simple and effective control mechanism has been implemented, divided into right and left handsets:
left: single tap play / pause and answer a call; double launch of Google / Siri assistant or rejection of a call; long press increases the volume
rights: single tap play / pause and answering the call; double next song or reject call; long press decreases the volume.
Pairing and connecting is instant : basically in parallel with removing the headphones from the case, we hear a message about the connection with the smartphone. I have not encountered a situation in which the headphones would have a problem with the stability of the connection with the sound source or with each other – in this respect they are flawless.
How does the Sound?
The headphones advertised by the guitarist Aerosmith can give a shadow of hope that they will not take rock carelessly – but if you counted on it, I have to worry you, because PaMu suffer from excess bass . Just like the quality of workmanship, working time, comfort of use, almost nothing can be faulted (and in some respects this model can be a model even for more expensive constructions), unfortunately the fans of strong impact based on bass will be pleased with the sound.
Of course, in some guitar sub-genres, the extra low-frequency energy can give them new life, but in most modern, polarized productions the bass dominates and puts a shadow on the rest of the band. Simply put, it's as if the first Sabbaths were again recorded by even Kyuss – I get out, which is too much … you know.
Bands such as Audioslave, Alter Bridge or Foo Fighters lose rock focus and rapacity , and oldschool metal with not the best quality recordings such as Atheist or even Judas Priest is worth listening to, because instead of energetic playing we get smudged pulp. Even stronger sounds like Death or Vader sound proportionally worse to the amount of guitar clamor.
In a word: do you listen mainly to metal and modern rock? Escape from the land of almighty bass, to which you will receive your free ticket with PaMu Slide Mini.
Fans of relatively balanced or even slightly insulated sound may be dissatisfied, but fans of strong beats will be in the seventh heaven. Chemical Brothers sounds like it's hard to stand still – it's physically noticeable bass strikes .
Below are a handful of songs from various musical genres (Tidal Hi-Fi) and a brief opinion on how the headphones dealt with them:
AC / DC "Thuderstruck" : while the start-up gives hope for pleasant playing, the entry of the whole instrumentarium mercilessly exposes the puffiness of the sound represented by PaMu. Bass, I can hear bass! And not much else …
The Doors "LA Woman" : I had to break away from the songs cited so far and serve something older, because PaMu surprisingly gave Doors a lot of modern sound, with meaty bass and good drums, and Jim's vocal took on a bit of style in the style of … Danzig. Yes, this self-inflated Danzig, whose voice is usually described as pissed off Presley mixed with even more pissed Morisson.
DJ Shadow, "Building Steam With A Grain of Salt" : I felt as if I suddenly heard my old audio set with Kenwood cassette, with this specific, raw sampling sound and at the same time striking, low-descending insulated bass. Interesting experience and another surprise.
Mery Spolsky "FAK" : processed, synthetic sounds and linguistic-vocal deflections, immersed in techno, also sound interesting and, surprisingly, bass watering gives good effects here.
To sum up: do you like music with a distinctive bass and listen mainly to contemporary sounds, especially electronic ones? PaMu sounds can be for you . Do you like guitar music and prefer a balanced sound? Keep looking.
Is it worth buying PaMu Slide Mini headphones?
It's amazing how the sound shift can affect the headphones' rating – if the PaMu didn't overdo the amount of bass, we would be dealing with fantastic True Wireless headphones , providing great work time, flawless service and connection quality combined with an extraordinary look and high class performance.
It is a pity, because they would be a real proof that headphones in this amount ($69) can compete with at least twice as expensive. PaMu Slide Mini will gain the favor of bass lovers – all the rest are unlikely to be liked.